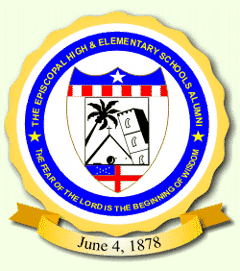 MISSION
The mission of the Episcopal High School and Episcopal Elementary School Alumni Association of the USA is to assist in ensuring that the Episcopal schools in Robertsport, Liberia (Episcopal Elementary, Episcopal High, St. John's, House of Bethany) are restored to being distinguished educational institutions in Liberia. We strive to mobilize and engage all alumni of these institutions in the spirit of "giving back," and to collaborate with the Episcopal Diocese of Liberia to provide quality education to young Liberians.
Four-Wheel Drive Truck in Schools' Future
St. John's in the Village at the prompting of Dr. John V. Singler, EHS-EES teacher, collected money during Lent for a four-wheel drive pickup truck. Click here to find out how much they raised....
Rev. Lloyd Prator, Andrew Jones, Rev. Mary Catherine Young, and Rev. Deacon Denise LaVetty presenting the check to EHS-EES representative Feweh Sherman
New Student Photos
Mohamedu F. Jones took these photos on his recent trip to Robertsport. For more photos, click here...
Children returning home from Episcopal Elementary School after the school day has ended.
Bowen Teachers Cottage Being Constructed
The Bowen Teachers Cottage is in the midst of construction. For more, go to the News from Liberia.
Some of the inside framing.
2012 Convention
The 14th Annual Convention was held in Minneapolis/St. Paul from August 31 to September 2, 2012 at St. Andrew's Episcopal Church, 1832 James Ave. North, Minneapolis, MN 5541.
For photos, reports, speeches, video, and more, see the 2012 Convention.
Payment of Dues
Dues are $150 and reconstruction costs are $200 per year.You can pay dues online using a credit or debit card, a bank account, or a PayPal account. Click this button to start:
If you prefer to send a check, please make it out to "EHS-EES Alumni Association" and mail it to:
William Paasewe
1220 Hogan Ridge Drive,
Grayson, GA 30017
Vision
As graduates and former students of the Episcopal Schools in Grand Cape Mount County, Liberia, who now reside in the United States, we share a common vision for those institutions, as Liberia emerges from approximately twenty years of civil unrest and instability.
With St. John's, the House of Bethany, and the Episcopal High School in Robertsport serving as the culminating points that combine to create a prominent source of highly educated, disciplined, patriotic, and Christian young men and women who will be ready for higher education in Liberia or abroad, we will pool our resources to restore those institutions to the position of prominence that they enjoyed prior to the extended period of civil unrest in the country.
As products of those institutions, we realize our indebtedness not only to them, but also to Liberia. We acknowledge that while these institutions were largely created by missionaries from America, and that while we are currently reaping the benefits of a good Christian education, it is incumbent upon us as Liberians, to now give back to the very institutions that are largely responsible for preparing us for survival in the world today. Within the next five years, we will continue to give of our time, our money, and our services, to rebuild our institutions and ensure that every child residing in the location of those institutions, is given the opportunity to education that is as good or better than what we had.
We will utilize the abundant technology that exists today to improve not only the infrastructure of the institutions, but also the facilities, and curriculum at each institution.
We envision that within the next five years, all institutions will be operational, that the Episcopal Elementary and High Schools in Robertsport will be reopened and fully staffed, and that the House of Bethany and St. Johns' will reopen for boarding students.
Our ability to reach the hundreds of former graduates and beneficiaries of these institutions will improve to the extent that we will also develop our own program of missionaries, comprising of former students who will volunteer to return on a rotational basis, and contribute in the same fashion that others did when we received our education.